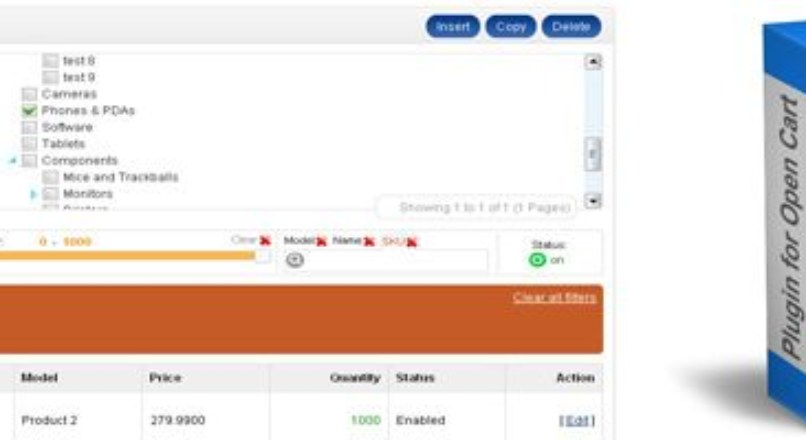 Admin-Smart-Filter-ver-2.3.0

Admin Smart Filter (ASF) — is easy in use and at the same time powerful tool for quick search and filtration of products in admin site.
Full control to cache. Vqmod 100 % compatible. Products are loaded via AJAX.
100% NEW FILES ! NO DEFAULT FILES WILL BE OVERWRITTEN !

Admin Smart Filter allows you to filter products in Product List (admin site) by:
— manufacturers
— categories
— attributes
— options
— additional filters (Price, Quantity, Name, Model, SKU, Status, Stock Status)
— search products with no category assignment
===
Besides the direct use, the filter can automatically fill or add input elements on the HTML forms on new or editing pages of the products on such fields: manufacturers, categories, and tabs: attributes, options. Data for filling Admin Smart Filter takes directly from filters you have selected, and makes the «auto filling» after checking the field on the uniqueness of new meaning, thereby guaranteeing absence duplicates in the attributes and options tabs.
«Auto filling» — is a powerful helper when you have to make a lot of products — then you only need to choose the filters which are necessary for you and when you create a new product, the fields of manufacturers and categories will have already been filled by ASF, and the necessary options and attributes will be added automaticaly as well.
===
Admin Smart Filter has a flexible system settings that allow you:
— choose filters to show in Product List
— turn on or off immediate updating of the list of products, at the choice of ASF
— enable or disable «Auto filling»
— choose the method of switching the Admin Smart Filters tabs
===
1. Filter products by manufacturers:
Allows you to quickly search of products by manufacturers in admin site. You can do multiple choice of manufacturers.
2. Filter products by categories:
In administration backend this filter makes possible to filter products by Category. You can do multiple choice of categories.
3. Filter products by attributes:
This filter provides the easiest way to filter results by the included attributes in admin site. You can do multiple choice of attributes.
4. Filter products by options:
This filter provides the easiest way to filter results by the included options in admin site. You can do multiple choice of options.

FEATURES
— extremely simple to use product filter
— flexible system settings
— Auto filling HTML forms
— OpenCart admin styling
— Support Multi-Languages (English, Russian)
— No core file change
— Free Installation if required
*Usage:
— ASF very simple and fast. You only go to Extensions > Modules > Smart Filter and install module.

IMPORTANT!
This extension requires VQMod Installation!
Do you have VQMod Installation?
If not, don't worry, just follow the installation instructions in the readme.txt !
*Installation:
-Installation is very easy with clear instructions.
Demo: smartshopbox.com
User: demo , pass: demo
Compatible with OpenCart 1.5.2-1.5.5.1

===

For questions and support, please send an email to Tymkiv Roman tumkiv.r[at]gmail.com
Please feel free to submit any bugs, feedback or features suggestions.
I commit to upgrade this module immediately should any bugs be found and reported.
Thank you!