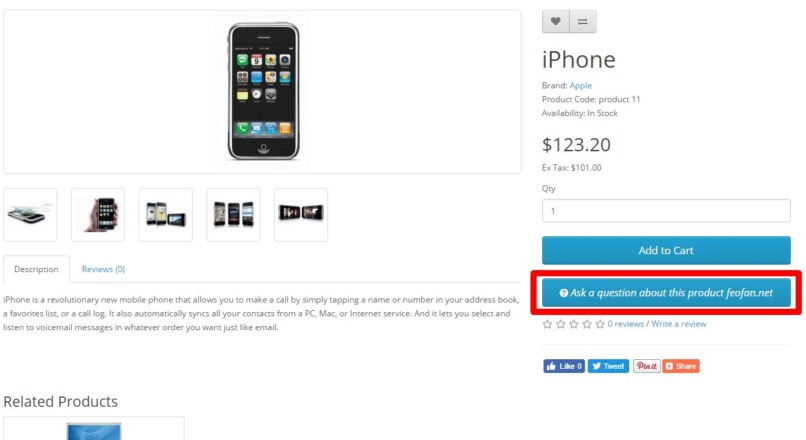 Ask a question about this product v_1.9.9 Opencart 2.x

Это расширение добавляет кнопку на страницах продуктов, называемую «Задавать вопрос об этом продукте», или как вы хотите назвать ее.
Эта кнопка связана со страницей с формой, с помощью которой заказчики могут отправлять информацию о них и вопросы об этом продукте для хранения владельца по электронной почте.
Эта форма аналогична форме контакта Opencart по умолчанию и содержит следующую информацию:
- Название продукта для клиента задает вопрос
- Ссылка на страницу продукта
- Дополнительный пользовательский текст
- Имя клиента и адрес электронной почты
- Дополнительные пользовательские дополнительные поля
- Вопрос клиента

Настройки кнопки администратора:
- Состояние: включено / отключено
- Текстовый текст (многоязычный)
- Пользовательский стиль
- Показать кнопку только для продуктов из некоторых категорий
- Показать кнопку только на изделиях с некоторым ценовым условием
- Показать кнопку только на изделиях с условиями запаса

Настройки страницы вопроса администратора:
- Пользовательский адрес / адрес электронной почты, на который задаются вопросы (по умолчанию - адрес владельца магазина). Не отображается в магазине.
- Заголовок заголовка (многоязычный)
- Пользовательский текст на текстовой странице (многоязычный)
- Добавить бесконечные дополнительные поля (многоязычная метка)

Настройки страницы успеха администратора:
- Заголовок заголовка (многоязычный)
- Текст (многоязычный)

Основные возможности:
- Поддержка нескольких языков
- Совместимость с несколькими магазинами
- Простота установки
- Простота использования клиентом
- Множество настроек и параметров на странице администратора
- Пользовательский стиль
- Возможность добавления бесконечного количества дополнительных полей в страницу формы
- Возможность фильтровать продукты на кнопку
- Файлы не перезаписываются

Eng==============================

This extension add a button in products pages, called "Ask a question about this product", or whatever you want to name it.
This button is linked to a page with a form through which the costumers may send information about them and questions about that product to store owner via email.
This form is similar to the default Opencart Contact Form, and it contains, the following information:
- Product name for the client ask the question
- Link to product page
- Additional custom text
- Customer name and e-mail
- Additional custom extrafields
- Customer question

Admin button settings . . .
Скачивание доступно подписчикам. Некоторые ресурсы доступны с подпиской VIP, Если вы оплатили LITE вы не увидите вип ресурсы

Download is available to subscribers. Some resources are available with a VIP subscription.If you paid for LITE, you will not see the VIP resources.