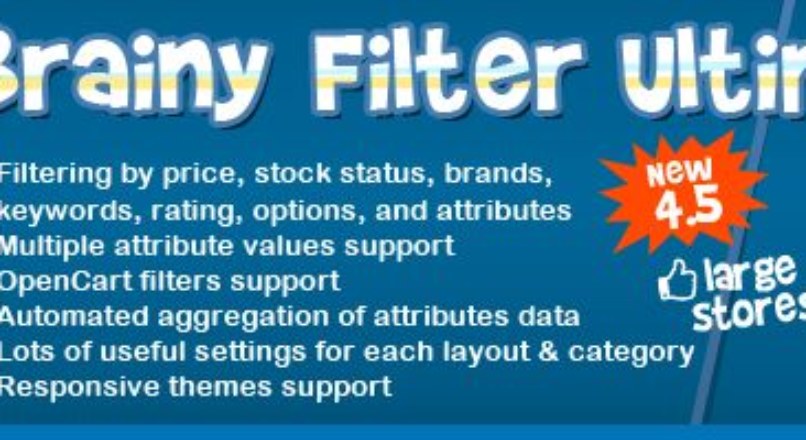 Brainy Filter Ultimate 4.5.1

Brainy Filter Ultimate 4.5.1 – дает возможность показать товары из подкатегорий в своих родительских категориях. Умный фильтр для OpenCart, который позволяет фильтровать продукты по ключевым словам, маркам, ценам, атрибутам доступности, рейтингу, параметрам и продукции. Работает на разных устройствах. Существует полноценный код HTML / CSS, который легко адаптируется к любой нестандартной конструкции. Фильтр был протестирован на телефонных устройствах Android, IOS и Windows. Фильтр работает с чувствительным темам. Особенности Brainy Filter Ultimate 4.5.1: – Поддержка нескольких значений атрибутов (многие значения могут быть введены для каждого атрибута, используя разделитель). – Фильтрация по ключевым словам, цена (с учетом налогов и скидок), марки (производителей), параметры (включая изображения), атрибуты, состояния запасов и рейтинга. – Различные макеты поддерживать. – Возможность изменить настройки отдельно для каждого макета и категории. – Горизонтальная шаблон. – Возможность изменения цвета шаблона фильтра. – Автоматизированная подготовка значения фильтра и таблиц кэша для увеличения скорости. – AJAX запросы, которые не перезагружают всей страницы. – Возможность сжимать и расширять определенное количество значений атрибутов. Совместимость: 1.5.5, 1.5.5.1, 1.5.6, 1.5.6.1, 1.5.6.2, 1.5.6.3, 1.5.6.4

Brainy Fil­ter for Open­Cart is a well thought out and excel­lently made mod­ule that allows fil­ter­ing prod­ucts by keywords, brands, prices, avail­abil­ity, rating, options, and prod­uct attrib­utes. You will be amazed how this small but mighty plug-in can improve your site.

Brainy Filter looks beautifully and works on different devices. There is a high-grade HTML/CSS code that is easy to adapt to any custom design. The filter has been tested on Android, iOS, and Windows Phone devices. The filter works with responsive themes.

Features:
Multiple attribute values support (many values can be entered for each attribute using a separator).
Filtering by keywords, price (taking into account taxes and discounts), brands (manufacturers), options (including images), attributes, stock status, and rating.
Different layouts support.
Responsive themes support.
Ability to change settings separately for each layout and category.
Ability to order attribute values.
OpenCart filters support.
Horizontal template.
Ability to change the filter template colours.
Automated preparation of filter values and cache tables to increase speed.
AJAX requests that don't reload the entire page.
Retina friendly front-end templates.
Settings to control the way attributes are shown.
Settings to enable or disable various blocks and product counts.
Ability to collapse attribute values.
Ability to shrink and expand certain amount of attribute values.
Filter submission options: 1) applying the filter once a user changes any of the filter settings; 2) applying the filter once a user stops changing settings; 3) applying on a button press (fixed or floating).
Features that improve OpenCart behaviour:
Ability to show products from subcategories in their parent categories.
Improved OpenCart's queries.
Screenshots
[button size="small" color="green" style="none" new_window="true" link="http://sh.st/sfZed"]Админка (demo: demo)[/su_button][button size="small" color="blue" style="none" new_window="true" link="http://sh.st/sfL7b"]Демо[/su_button]