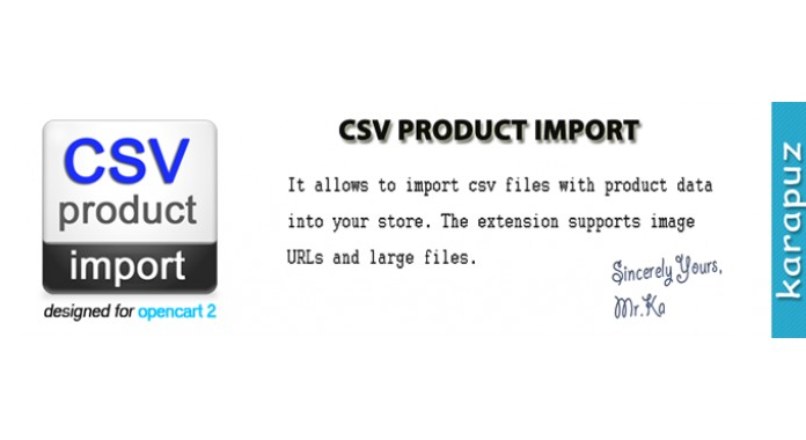 CSV Product Import ver.4.3.3

Расширение добавляет возможность импорта продуктов из файла в формате csv. Поддерживаются все стандартные поля продуктов и обзоры продуктов (начиная с версии 4.1.0). Расширение может автоматически создавать записи категории и производителя в хранилище (только для одного языка). Расширение поддерживает импорт настраиваемых полей из таблицы продуктов.

Для импортируемого файла нет ограничений по размеру. Поддерживаются различные кодировки файлов (например, UTF-8, Windows-1251), но перед началом импорта вы должны знать набор символов файла.

Eng===============================

The extension adds the ability to import products from a file in csv format. All standard product fields and product reviews (since version 4.1.0) are supported. The extension may automatically create category and manufacturer records in the store (for one language only). The extension supports import of custom fields from the product table.

There are no any size limitations for the import file. Different file charsets are supported (for example, UTF-8, Windows-1251) but you should be aware of the file charset before you start the import.

[box . . .
Скачивание доступно подписчикам. Некоторые ресурсы доступны с подпиской VIP, Если вы оплатили LITE вы не увидите вип ресурсы

Download is available to subscribers. Some resources are available with a VIP subscription.If you paid for LITE, you will not see the VIP resources.