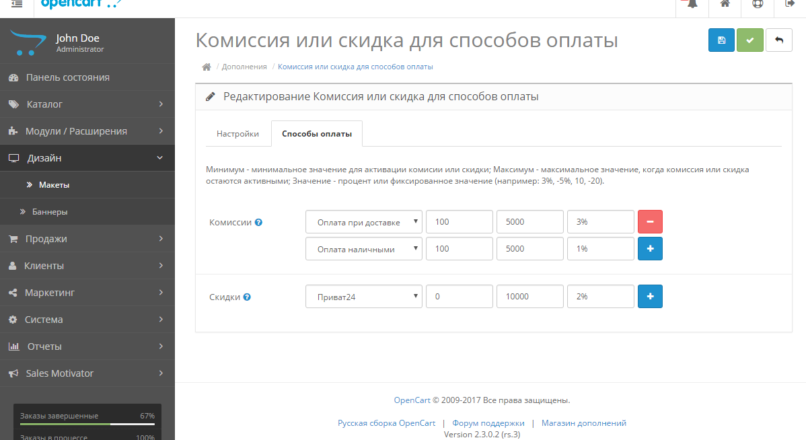 Комиссия или скидка для способов оплаты на Opencart 2.x

С помощью этого модуля вы сможете установить комиссию или скидку на все доступные способы оплаты. Вы можете установить комисию или скидку в процентах или в фиксированном значениий, и они будут применяться соответственно.

Функции модуля:
добавляет комиссию или скидку для каждого включенного метода оплаты отдельно.
отображает имя способа оплаты вместе с комисией или скидкой в заголовке.
позволяет скрыть комиссию или скидку и добавить ее значение к другой сумме.
позволяет устанавливать минимальные и максимальные итоговые значения суммы заказа для любой комиссии или скидки отдельно.
зависимости от налогового класса, географической зоной, групп клиентов и т. д.
Установка модуля:
1. Установить модуль через админку (ocmod)
2. Обновить модификации
3. Перейти в Модули > Учитывать в заказе > Комиссия или скидка для способов оплаты, включить и настроить модуль.
Работает на Opencart и OcStore
[box type="success" align="" class="" width=""]Opencart 2.0 Opencart 2.1 Opencart 2.2 Opencart 2.3[/dropshadowbox]
&nbsp . . .
Скачивание доступно подписчикам. Некоторые ресурсы доступны с подпиской VIP, Если вы оплатили LITE вы не увидите вип ресурсы

Download is available to subscribers. Some resources are available with a VIP subscription.If you paid for LITE, you will not see the VIP resources.