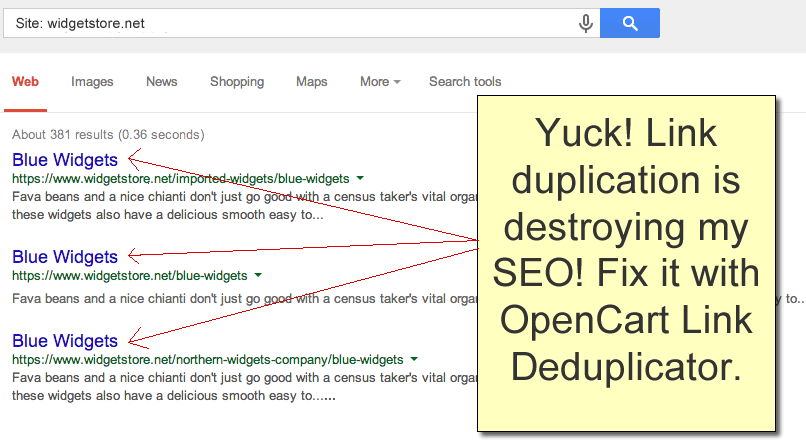 OpenCart SEO Link De-duplicator

What is SEO Link De-deduplicator?
The biggest problem OpenCart sites face is the duplicate/thin pages penalties caused by its default link scheme. By default, every page on the site can be accessed by a multitude of links. OpenCart SEO Link De-duplicator ends the duplicate link madness by standardizing one proper link for each page, and 301 redirecting all of the "ghost" versions to the proper link. Boost your SEO efforts in just minutes!
Eliminates most of OpenCart's duplicate link mess, replacing duplicated links with consistent versions
301 redirects duplicated links to correct versions
Probably the most important SEO improvement you can make
Easily change the URL scheme in the site admin
vqMod easy installation—no core files overwritten, nothing to modify
Works with OpenCart 1.5.x AND OpenCart 2.0.x – 2.3.x
[box type="success" align="" class="" width=""] OpenCart 2.3.0.x, OpenCart 2.2.0.x, OpenCart 2.1.x, OpenCart 2.0.x, OpenCart 1.5.x, OpenCart 1.5.6.x, OpenCart 1.5.5.x, OpenCart 1.5.5, OpenCart 1.5.4, OpenCart 1.5[/dropshadowbox]
Demo