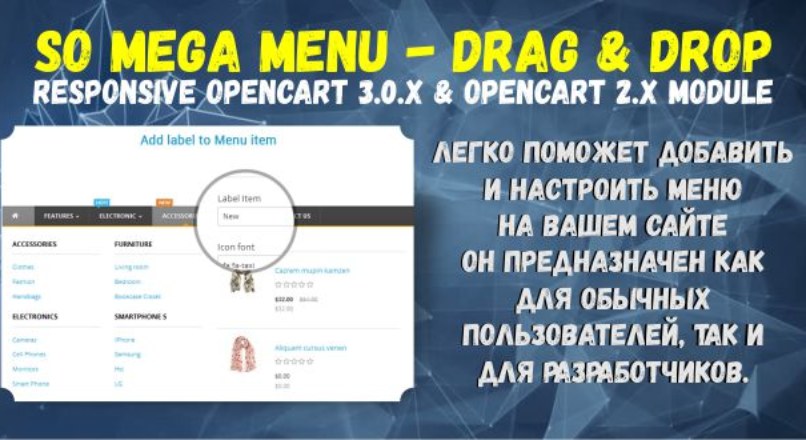 So Mega Menu – Drag & Drop Opencart 2.x-3.x

So Mega Menu – это простой способ добавить и настроить меню на вашем сайте OpenCart. Он предназначен как для обычных пользователей, так и для разработчиков. Благодаря простому интерфейсу бэкэнд, четким параметрам, So Mega Menu позволяет создавать и настраивать элементы меню без значительных знаний по кодированию.

Таким образом, Mega Menu поддерживает 7 типов контента, которые вы можете добавить в свое меню: пользовательский HTML, продукт, категория, производство, изображение, подкатегорию и список продуктов даже в баннере объявлений. Кроме того, модуль позволяет отображать пункт меню как горизонтальное мега-меню и вертикальное мега-меню. Специально, So Mega Menu позволяет вам перетаскивать, чтобы заказывать элементы меню прямо в бэкэнд.

Eng====================================================

So Mega Menu is an easy way to add a functional and customizable Mega Menu to your OpenCart website. It is designed for both regular users and developers. With simple backend interface, clear params, So Mega Menu allows you to create and customize menu items without much coding knowledge.

So Mega Menu supports 7 content types that you can add to you menu: Custom HTML, Product, Category, Manufacture, Image, Subcategory and Product List even the ads banner. Besides, the module allows to show menu item as Horizontal Mega Menu and Vertical Mega Menu. Specially, So Mega Menu allow you to drag and drop to order menu items right in the backend.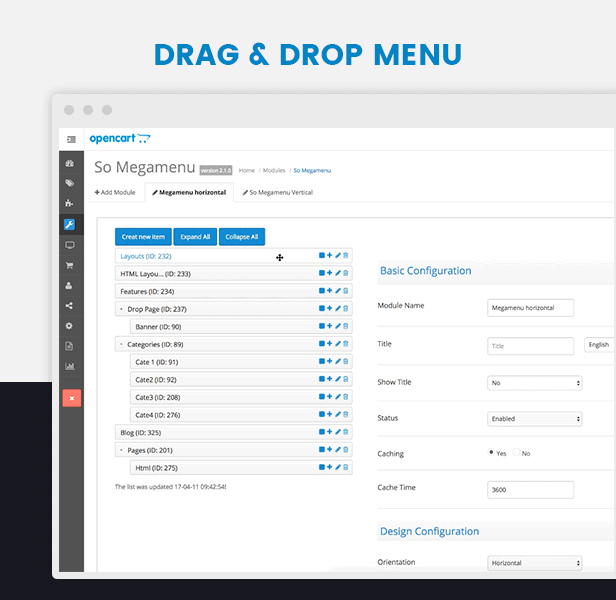 OpenCart 2.3.0.x, OpenCart 2.2.0.x, OpenCart 2.1.x
Продажник