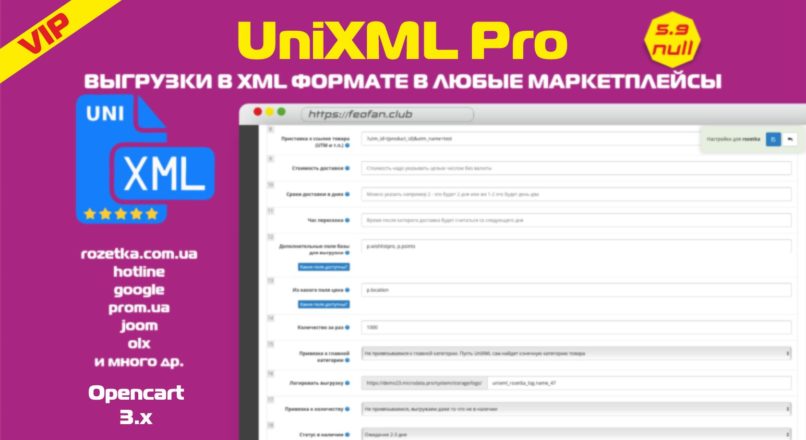 UniXML Pro – модуль выгрузки в XML формате в любые маркетплейсы OC 3 v.5.9 VIP

Модуль UniXMLPro это универсальное решение для создание выгрузок в XML формате в любые маркетплейсы или места которые принимают товары магазина.

На данный момент в модуле:
Выгрузка в rozetka.com.ua (розетка)
Выгрузка в hotline (Хотлайн)
Выгрузка в price.ua (Прайс)
Выгрузка в nadavi (Надави)
Выгрузка в google merchant (Гугл мерчант)
Выгрузка в prom.ua (ПРОМ)
Выгрузка в yandex market (Яндекс Маркет)
Выгрузка в cdek (СДЭК)
Выгрузка в goods (Гудс)
Выгрузка в mobilluck (Мобилак)
Выгрузка в allo.ua (Алло)
Выгрузка в fotos.ua (f.ua)
Выгрузка в privat (Приват маркет)
Выгрузка в joom
Выгрузка в olx (пока неясно с ними)
Выгрузка в beru.ru (Беру)
Выгрузка в kidstaff (Кидстаф)
Выгрузка в bigl (БИГЛ)
Выгрузка в froot (ФРУТ)
Выгрузка в regmarkets (Регмаркетс)
Выгрузка в besplatka (Бесплатка)
Выгрузка в skidochnik.com.ua (Скидочник)
Выгрузка в metamarket.ua (Метамаркет)

Скачивание доступно подписчикам. Некоторые ресурсы доступны с подпиской VIP, Если вы оплатили LITE вы не увидите вип ресурсы

Download is available to subscribers. Some resources are available with a VIP subscription.If you paid for LITE, you will not see the VIP resources.