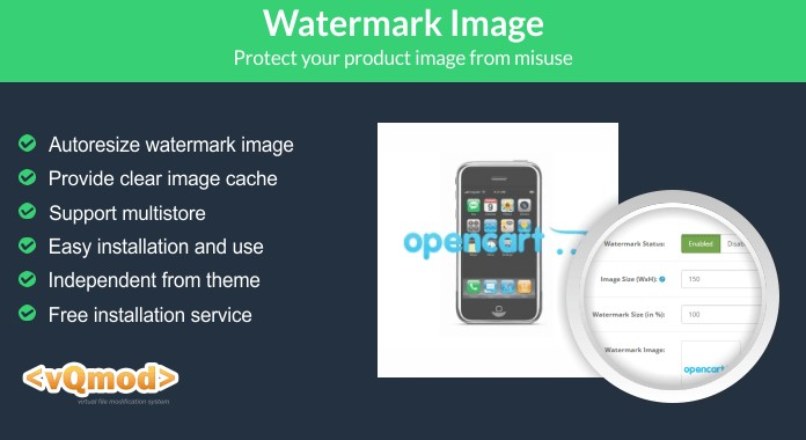 Watermark Image Opencart 1.5-2.x

Модуль водяного знака позволяет вам вставлять выбранное изображение (обычно логотип вашего магазина) на фотографии ваших продуктов. Это изображение встроено в изображение, чтобы его нельзя было удалить. Это защитит вас от неправильного использования или распространения изображения вашего продукта кем-либо.

Моды позволяют добавлять водяные знаки ко всем изображениям, включая изображение для баннера, карусели и слайд-шоу. Водяное изображение будет применено для всех изображений до тех пор, пока они удовлетворяют требованиям. Это можно задать минимальным размером изображения, в котором будет применен водяной знак.

Eng==============================

Watermark function allows you to insert the image that you choose (usually the logo of your store) on photos of your products. This image is embedded in the picture so that it cannot be removed. That is will protect you against misuse or distribution of your product image by someone.

This mods allow you to add a watermark to all images include image for banner, carousel and slideshow. Watermark image will applied for all images as long as meet requirement. This is can be set by minimum image size where watermark will be applied.

[box type="success" align="" class . . .
Скачивание доступно подписчикам. Некоторые ресурсы доступны с подпиской VIP, Если вы оплатили LITE вы не увидите вип ресурсы

Download is available to subscribers. Some resources are available with a VIP subscription.If you paid for LITE, you will not see the VIP resources.