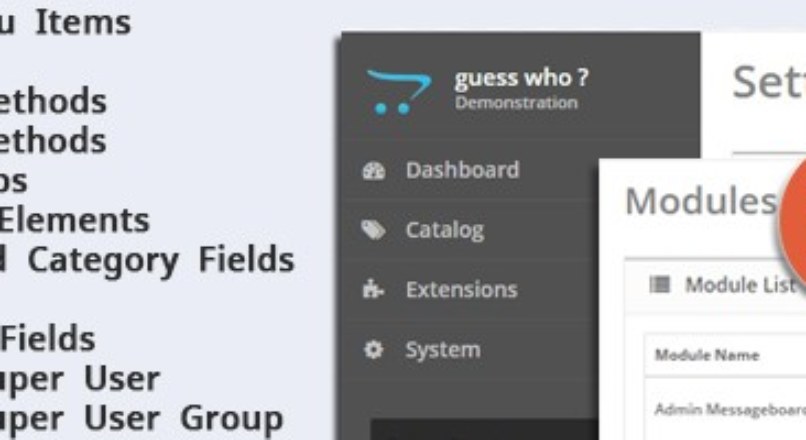 Hide and Seek Bundle Pack (Супер сборка из 3-х модулей)

Этот пакет содержит супер ТРИ модуля для управления отображением в Админке в зависимости от предоставленных прав пользователю.
Крайне полезные модули для "причёсывания" интерфейса админки.

1. Hide Admin Menu + Modules + Payments + Shipping + Tabs + Dashboard + Help
Это расширение скрывает пункты меню, когда пользователь не имеет к ним доступа.
Также позволяет скрыть / показать модули в пункте меню Модули, Оплаты и доставки.
Удаляет раздел справки в меню.

2. Hide User Permissions, Super Ninja Admin, acts like Ninja:
С помощью этого расширения можно создать группу администрирования с дополнительных привилегий, которые не могут быть замечены другими администраторами. Он действует под капотом, незаметно. Вы можете скрыть привилегии, указанные в настройках групп пользователей индивидуально для каждой группы пользователей, таким образом, если пользователь не имеет доступа к конкретного раздела меню они не будут даже увидеть соответствующую опцию разрешения в настройке разрешения группы пользователей. Наличие пользователя Супер ниндзя Админ совершенно незамеченным другими пользователями, таким образом, другие не могут его видеть. Это расширение является очень мощным в сочетании скрыть меню Админ и модулей.

3. Hide Admin Products and Category Fields:
Это расширение предоставляет вам возможность скрывать различные ненужные поля в карточке Товара и редактировать Категории раздел администрирования.
Demo